Wonder Woman
We don't often talk about script reviews, but since Warner Brothers dropped the Joss Whelan "
Wonder Woman
" and bought a World War 2 spec script, we have wondered about the fan take on the Amazon's new version. Well, that script has been read by the Batman-On-Film folks, and here is their review.
---
Gone With the Wind
In April 2008 in London's West End a new Trevor Nunn directed musical version of Margaret Mitchell's "
Gone With the Wind
" will open, and thus the ashes of Atlanta will be sturred again. The press release says that the GWTW production, featuring music and lyrics by so far unknown composer Margaret Martin, has been in development for three years. Tickets go on sale in September. Nunn's credits include "Les Misérables," "Cats," "Starlight Express," "Nicholas Nickleby," "Piaf" and "Sunset Boulevard." Producer Aldo Scrofani said that the show would "
remain true to Margaret Mitchell's original story and characters while also revealing its relevance to our lives today.
"
---
I Love You Phillip Morris
Jim Carrey
has signed to star in "
I Love You Phillip Morris
." Based on a true story, Carrey will play a conman whose love for a cellmate leads him to make several prison breaks. The film, written and directed by Glenn Ficarra and John Requa, is based on a book by Houston Chronicle crime reporter Steve McVicker.
---
Blindness
Mark Ruffalo
is to star in director Fernando Meirelles' "
Blindness
." The story tells of an outbreak of blindness in an unidentified town, where a doctor (Ruffalo) loses his sight just like everyone else, except the his wife. Julianne Moore also stars, in the Don McKellar script based on the novel by Jose Saramago. Production starts this summer in Sao Paolo, Brazil.
---
The King of Kong
Michael Bacall
will write "
The King of Kong
," a documentary about the battle for "
Donkey Kong
" supremacy, for New Line. Seth Gordon will direct with the documentary ready for theaters in August.
---
---
Mike Fright: Stand Up!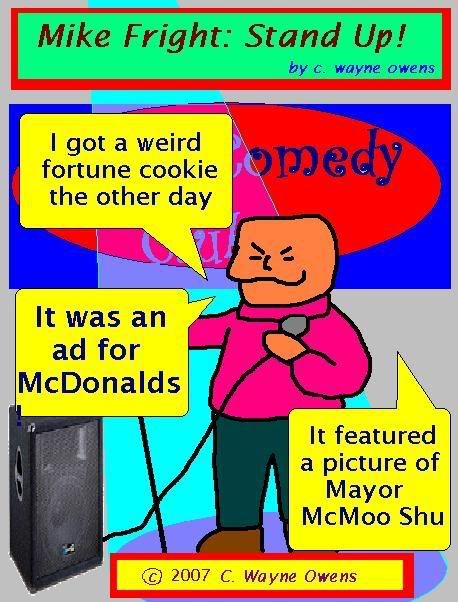 #560
Check Out: The Mike Fright Site!
---
Infinity Express
Cecil W. McCall loved his Uncle Shelby. When the old man disappeared and was presumed dead, it affected him greatly. Then came the package, his uncle's legacy. In the package were Time Bands: devices that promised to take the wearer back in time. But Uncle Shelby hadn't left much in the way of instructions. So when McCall accidentally set them off, he was thrown back into the Victorian era, without much preparation. Being a comic and a trivia expert wasn't a lot of help, but being a history nut was. When he saw he was in the England of Jack The Ripper he knew what he had to do. With the aid of Arthur Conan Doyle & the Real Sherlock Holmes, he sets out to catch the Ripper, find his Uncle and go home. On the way he meets Adam Worth (The Real Professor Moriarty), Dr. Treves & The Elephant Man, Bram Stoker, Gilbert & Sullivan, Gaston Leroux,
William Brodie, Rasputin and the Real Dracula.
He also runs into a time-traveling salesman,
Time Police and the forerunners of the Mafia.
And that is only the beginning . . .
---
---
Comic Previews
Comics Continuum has posted preview pages of
Moon Knight #11,
---
World War Hulk: Front Line #1
,
---
Alien Pig Farm 3000 #2
,
---
Dynamo 5 #4
,
---
Occult Crimes Taskforce, Vol. 1
,
---
Strange Embrace #1
,
---
Strange Girl #17
,
---
&
The Ride: Die, Valkyrie #1
---
---
---
---