All About Adam
Variety
is reporting that Disney (who is also working on a feature version of "Fraggle Rock" for 2009) bought the script "
All About Adam
," by
Alan Schoolcraft
and Brent Simons. It is about the biblical Adam who follows Eve to modern-day New York after they have a lover's quarrel.
---
Mandrake
TV Blend
spoke to Criss Angel (Mindfreak on A&E) here and he said he will star in a big screen version of "
Mandrake The Magician.
" He stated: "
I've just signed on to do a movie which I'll be shooting at the end of this year called Mandrake. Which is based on the comic book strip. It's gonna kind of be like a kind of cool realm of 'The Crow' but different of Mandrake the magician coming to life. I'm designing and creating the visual effects for that, as well as going to be acting in it. So that's a very exciting prospect that I'm looking forward to do. Normally magic hasn't translated very well with storytelling. I mean live it's been disastrous if you look at certain shows that try to incorporate it throughout the course of the last twenty years. But I think people are starting to get how to do it. I know that the Mandrake project really gets it. Being involved from the beginning in the creation of the script, and of the characters and effects, really gives me an opportunity to work with the director to make sure that it's really seamless with how they coexist and work hand in hand, and how one supports the other and it's not contrived and it's not cheesy. So, I'm really excited about Mandrake and I'm hoping that they'll get it right better than anyone's gotten it yet.
"
---
Battlestar Galactica
While rumors begin to fly about the resurrection of recently cancelled "Jericho," the case will not be the same with "Battlestar Galactica." The final fourth season will be the last and will be broadcast on Sci Fi Channel in November. Executive producers Ronald Moore and David Eick released a statement that says: "
This show was always meant to have a beginning, a middle and, finally, an end. Over the course of the last year, the story and the characters have been moving strongly toward that end, and we've decided to listen to those internal voices and conclude the show on our own terms. And while we know our fans will be saddened to know the end is coming, they should brace themselves for a wild ride getting there - we're going out with a bang.
"
---
TV DVD News
TVShowsonDVD.com
has a press release about the "Superman: Doomsday" animated movie here. Other news includes the animated "Ghostbusters" stuff here, "Grey's Anatomy" news here, a bit of "Lost" news here and "Drawn Together" season 2 news here.There is also news about a huge sale on TV DVDs here.
---
Sin City 2
Frank Miller
's involvement with "The Spirit" and Robert Rodriguez's commitment to "Machete" and "Barbarella" will delay "
Sin City 2
." Rottentomatoes.com quoted Miller as saying: "
Sin City 2 is still likely to happen, just not right away. The script is written and Robert and I are raring to go, but it looks like I am going to do The Spirit first and Robert is going to do Barbarella first.
" More here.
---
---
Mike Fright: Stand Up!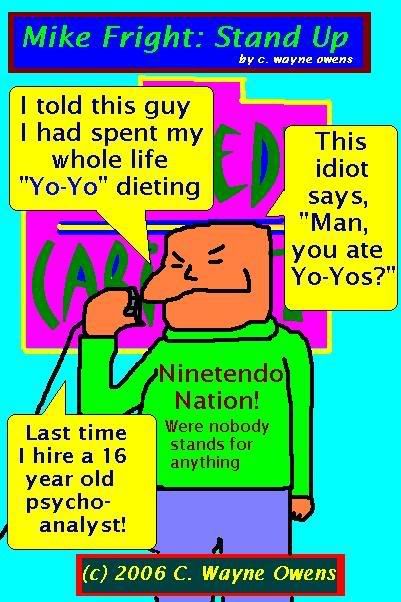 #559
Check Out: The Mike Fright Site!
---
Infinity Express
Cecil W. McCall loved his Uncle Shelby. When the old man disappeared and was presumed dead, it affected him greatly. Then came the package, his uncle's legacy. In the package were Time Bands: devices that promised to take the wearer back in time. But Uncle Shelby hadn't left much in the way of instructions. So when McCall accidentally set them off, he was thrown back into the Victorian era, without much preparation. Being a comic and a trivia expert wasn't a lot of help, but being a history nut was. When he saw he was in the England of Jack The Ripper he knew what he had to do. With the aid of Arthur Conan Doyle & the Real Sherlock Holmes, he sets out to catch the Ripper, find his Uncle and go home.
On the way he meets Adam Worth (The Real Professor Moriarty), Dr. Treves & The Elephant Man, Bram Stoker, Gilbert & Sullivan, Gaston Leroux, William Brodie, Rasputin and the Real Dracula.
He also runs into a time-traveling salesman,
Time Police and the forerunners of the Mafia.
And that is only the beginning . . .
---
---
Comic Previews
Comics Continuum has posted preview pages of
Captain America #27,

---
Hedge Knight II: Sworn Sword #1
,
---
Freshmen II #5
,
---
Witchblade/Punisher
,
---
&
First Born
---
---
---
---