Wolverine
Director Len Wiseman is just about to have his "Live Free or Die Hard" open. What is next on his plate? He told Superhero Hype: "
'Wolverine' is something I was interested in way before I was talking to these guys about 'Die Hard' I think it would be a great story to tell, and in the case of that film, it wouldn't be [as big] in terms of large-scale action, but it's something I'm interested in, in his origin story and the character story with that, and I know how
Hugh
would play it, and that would be awesome. So that would be my passion for that is that I think the character story is really cool, and I'd love to see it and be there the first day [it opens] anyway. There's so many things that have been going on and I know that there are so many other directors. There's nothing set in any fashion, but it has been talked about.
" "
Live Free or Die Hard
" opens this Wednesday.
---
Shazam!
Brandon Molale
spoke here to E! Online about possibly playing Captain Marvel: "
The script hasn't even been written yet. But I'm just flattered that they're even considering me. I was shocked. They're making every comic-book movie as it is, and it's like, you know, I know my abilities as an actor. I'm a good actor. I just need someone to give me something I can sink my teeth into.
"
---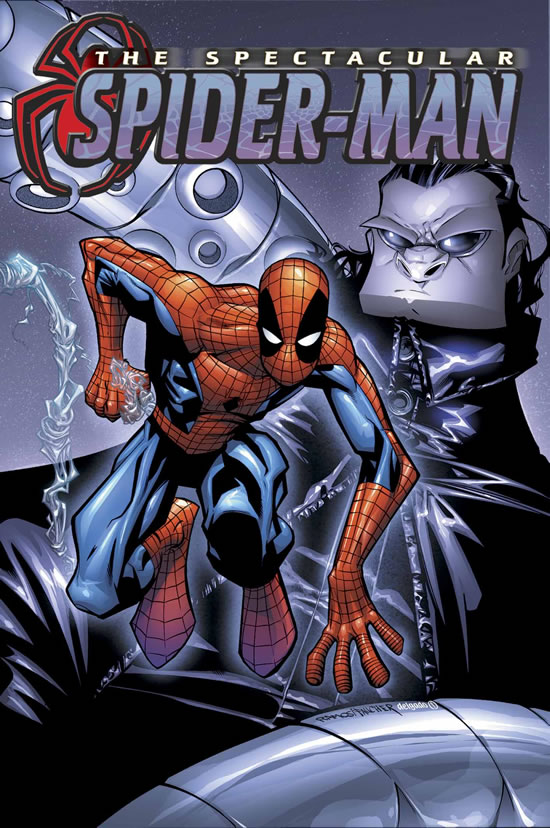 The Spectacular Spider-man
Superhero Hype
reports here that a new animated Spider-man series, called "
The Spectacular Spider-man
," will be coming to the Kids' WB! in 2008. The new series will start at the beginning of his career. Following the changes in the life of a 16-year-old getting super powers, dealing with school, girls and super-villains in the real world. Greg Weisman will be supervising producer, with Victor Cook as producer/supervising director.
---
Trouble Is My Business
Frank Miller
has been signed to adapt the Raymond Chandler novella "
Trouble Is My Business
" for Universal Pictures. Developed as a starring vehicle for Clive Owen, the film would see Owen starring as Philip Marlowe. This would be the first time "
Trouble Is My Business
" will be filmed for a theatrical feature.
---
Playboy
Variety.com
reports that Brett Ratner will be directing "
Playboy
," about the life and times of Hugh Hefner. First the movie was going to be a musical, then for years it was a project of Oliver Stone. But when Hefner, Ratner and writer John Hoffman met, the years of development hell for the project ended. Ratner said: "
I want to show it all, from the First Amendment struggles to his first orgy to the stroke in the 1980s that almost killed him.
"
---
---
Mike Fright: Stand Up!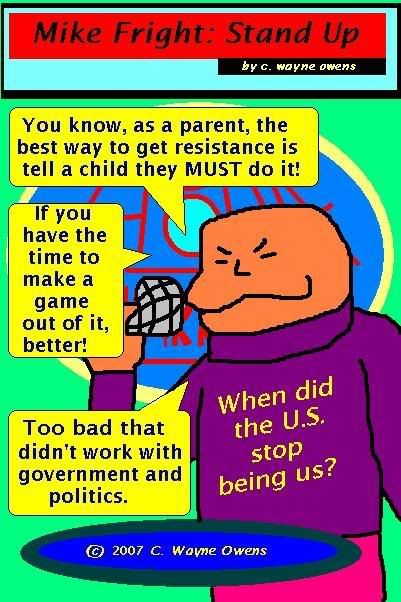 #580
Check Out: The Mike Fright Site!
---
Infinity Express
Cecil W. McCall loved his Uncle Shelby. When the old man disappeared and was presumed dead, it affected him greatly. Then came the package, his uncle's legacy. In the package were Time Bands: devices that promised to take the wearer back in time. But Uncle Shelby hadn't left much in the way of instructions. So when McCall accidentally set them off, he was thrown back into the Victorian era, without much preparation. Being a comic and a trivia expert wasn't a lot of help, but being a history nut was.
When he saw he was in the England of Jack The Ripper
he knew what he had to do. With the aid of
Arthur Conan Doyle & the Real Sherlock Holmes,
he sets out to catch the Ripper, find his Uncle and go home.
On the way he meets
Adam Worth (The Real Professor Moriarty),
Dr. Treves & The Elephant Man,
Bram Stoker, Gilbert & Sullivan,
Gaston Leroux (Creator of "The Phantom of the Opera"),
William Brodie, Rasputin and the Real Dracula.
He also runs into a time-traveling salesman,
Time Police and the forerunners of the Mafia.
And that is only the beginning . . .
---
---
Comic Previews
Comics Continuum has posted preview pages of
Nova #4,

---
Omega Flight #4
,
---
The Flash: The Fastest Man Alive #13
,
---
Highlander #8
,
---
Savage Tales #2
,
---
&
Witchblade: Shades of Gray #2
---
---
---
---