Gatchaman
Anime News Network
says here that "
Nikkatsu Corporation, a subsidiary of Index Holdings, has announced that it has green-lit live-action adaptations of two 1970s anime series, 'Yatterman' and 'Ninja Science Team Gatchaman.'
" That's "Battle of the Planets" for the uninitiated.
---
Barbarella
Variety
reports that Neal Purvis and Robert Wade will write the script for the remake of "Barbarella." Rather than the Jane Fonda as sex kitten angle, the writers plan to make Barbarella a "
free, modern gal who survives in a futuristic world through her intelligence, fighting skills and sexuality.
"
Dino
and Martha De Laurentiis bought the rights from Julien Forest, the son of
Jean-Claude Forest
who wrote the comic on which the film is based. De Laurentiis said: "
Barbarella is the ultimate science-fiction adventure heroine: smart, strong funny and sexy. I'm excited to reintroduce Barbarella to a new generation of moviegoers.
"
---
TV DVD News
TVShowsOnDVD.com
has posted news on upcoming releases, such as "
Stargate SG-1
's" 10th season here, "The Woody Woodpecker Show" finally showing up here, "The Land of the Giants" complete series set here, "Heroes" stuff here, and "Super Friends: The Legendary Super Powers Show " set here.
---
The Root of All Evil
First there was "
The Daily Show With Jon Stewart
," then came "The Colbert Report," now
Comedy Central
has its own court show coming out with "
The Root of All Evil
." The pilot will be hosted by Lewis Black, playing a judge presiding over cases pitting political figures, celebrities and pop culture concepts accused of being "
the root of all evil
." The pilot included the cases of "Paris Hilton vs. Dick Cheney" and "
chick flicks vs. video games.
" Guest comedians will serve as attorneys and Black will render the verdict.
---
---
Mike Fright: Stand Up!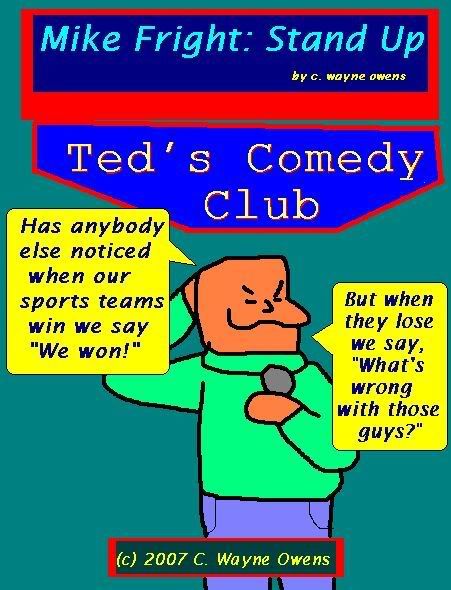 #510
Check Out: The Mike Fright Site!
---
---
Comic Previews
Comics Continuum has posted preview pages of
World War Hulk Prologue: World Breaker,
---
Incredible Hulk #106
,
---
Loners #2
,
---
Omega Flight #2
,
---
Battlestar Galactica: Cylon Apocalypse #2
,
---
Highlander #6
,
---
&
New Battlestar Galactica: Zarek #4
---
---
---
---