High School Musical
The Hollywood Reporter
says that the Disney Channel hit "
High School Musical
" will spawn Halloween themed movie next year. Disney Channel and
Walt Disney Motion Pictures Group
have announced that "
Haunted High School Musical
" will be released in 2008. No word what, if anything, this has to do with the "
in production
" film "
High School Musical 2: Sing It All or Nothing!
"
---
Metal Gear Solid
Variety
reports that Sony has begun development on a feature film version of the Konami video game franchise,
Metal Gear Solid
. The game tells of Solid Snake, a retired soldier infiltrating a nuclear weapon facility to neutralize a terrorist threat.
---
Toy Story 3
Disney Animation
and
John Lasseter
have announced a 2009 release for "
Toy Story 3.
"
Lee Unkrich
will direct and Michael Arndt will do the script. Lasseter said: "
The greatest thing about the merger of the two companies is that the creators of 'Toy Story' 1 and 2 can make 3 with the story that we wanted.
"
---
The Young Victoria
Martin Scorsese
and
Graham King
are scheduled to produce "
The Young Victoria
," a drama about the early life of queen, with Quebec filmmaker Jean-Marc Vallee directing. Written by
Julian Fellowes
, the film will show the early years of Victoria's reign, just after she ascended to the throne in 1837, aged 18, and her storied romance and marriage to Prince Albert. Victoria ruled until her death in 1901. King said: "
We all think we know Queen Victoria from the latter part of her life, but in fact she was an amazing, dynamic, romantic personality from a very early age that is largely unknown. I had been searching for a British project for many years so am just thrilled to bring her story to life. And to do so in partnership with
Marty is a special joy.
"
---
---
Mike Fright: Stand Up!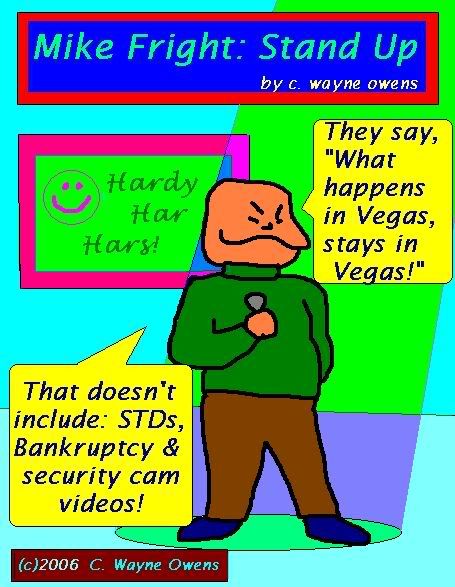 #447
Check Out:
The Mike Fright Site
!
---
---
Comic Previews
Comics Continuum has posted preview pages for
Freshmen II #3,
---
Flare #39
,
---
Casanova #7
,
---
Gødland #16
,
---
The Nightly News #4
,
---
PvP,Vol. 4: PvP Goes Bananas!
,
---
Sonic X #16,
---
Archie Digest #232
,
---
&
Jughead #179
---
---
---
---