Tinker Bell
We wrote awhile back about this film being delayed because the current version was skewing to young (4-6), according to test audiences. Brittany Murphy, who voices the title character in the upcoming direct to DVD animated feature, spoke to SCI FI Wire about the fantasy, saying: "
When they asked me to play the role of Tinker Bell, . . . come on! How could I possibly say no? Disney sent me a basket. I'll never forget; I was working on a movie in London, and they sent me a basket with Tinker Bell alarm clocks and things like that and this great sketch of what she'd look like, along with all the other characters in Pixie Hollow. It definitely shows her life with Peter and the Lost Boys, but it shows Tink with her girlfriends and also feeling inadequate about being a tinker fairy. Pots and pans, kettles; that's what a tinker was when J.M. Barrie wrote the original. It meant something different in that world than it does in today's world, and she feels very insecure about that. And the film explores that, which is sort of fantastic.
" About shooting the motion-capture film she added: "
One of the oddest happy things I've seen in my life was seeing this face that I was raised with and this feisty personality, which is the character of Tink, who is an icon, with my voice coming out of her mouth. And she looks how we all know she looks, but she has my facial expressions. That was very odd to see. All of a sudden her eyes grow to half of her face. She does little things that I do, and, really, it's very strange.
" Tinker Bell, which also features the voice of Kristin Chenoweth, is now being targeted for release in 2007 or 2008.
---
---
Toon Insurance
An article in The Orange County Register takes on the task of finding the cartoon, comic, and movie characters who are most in need of a life insurance policy. A survey is sighted in which respondents were asked their opinion on whether Spider-Man, Batman, Fred Flintstone, Harry Potter or Marge Simpson needed such coverage.
---
The Painted Veil
Edward Norton
reported that he broke three vertebrae during a horse riding accident on the set of "
The Painted Veil
." The movie, directed by John Curran, was shot entirely in China. Norton says: "
One of those horses chucked me off pretty badly. I broke my spine in like three places. I broke my back. I broke three vertebrae in my back. I felt like my back was horribly wrenched but I sort of assumed I was OK, and I didn't actually find out I had broken it until I went to Hong Kong. I cracked my 10th, 11th and especially my 12th thoracic vertebrae.
" "
The Painted Veil
," a Warner Independent release, is the third filming of the Somerset Maugham novel.
---
Happy Feet
The New York Times
has published an article about Savion Glover's uncredited role in the CGI-animated film here (free registration is required). Glover's tap-dancing was motion-captured to provide the dancing for Mumbles, the lead penguin of the movie, but is, for the most part, unrecognized by the credits or the advertising for the movie.
---
---
Mike Fright: Stand Up!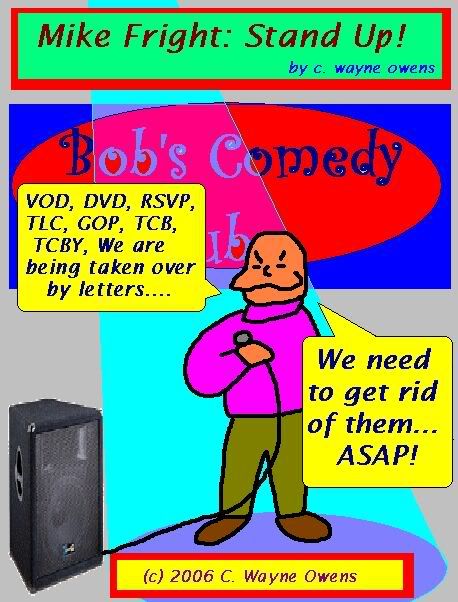 #408
Check Out:
The Mike Fright Site
!
---
---
Comic Previews
Comics Continuum has posted preview pages for
Battlestar Galactica: Zarek #1,
---
Flare #36
,
---
Supergirl and the Legion of Super-Heroes #25
,
---
'68,

---
The Cryptics #2
,
---
&
She-Hulk #15
---
---