---
---
Dirt Music
The Hollywood Reporter
says the Phillip Noyce directed adaptation of Tim Winton's "
Dirt Music
" is getting underway on location in Australia next year. Justin Monjo and Pip Karmel are writing the screenplay. Rachel Weisz and Heath Ledger had been announced as stars, but Ledger has withdrawn due to scheduling conflicts on "The Dark Knight."
---
Tarzan
Variety says that Warner Brothers and Jerry Weintraub are developing a new "
Tarzan
" and are in talks with Guillermo del Toro to direct it. Del Toro said: "
I'd love to create a new version that is still a family movie, but as edgy as I can make it. There are strong themes of survival of a defenseless child left behind in the most hostile environment.
" Del Toro also said that he wouldn't "help" or meddle in John Collee's proposed script.
---
Golden Globes
Empire Movies
has up a list of the Golden Globe nominations here, just in case you haven't heard enough about them already.
---
Drive
Nathan Fillion
is playing the lead in Fox's midseason drama series "
Drive
," about an underground race across America. Fillion will portray Alex Tully, described as "
a charming, rogue landscaper who is coerced into joining the race to search for his wife who had been abducted.
" Ivan Sergei took on the role in the original pilot for executive producer Tim Minear. Fillion was first approached with the project in the spring but couldn't do the pilot because of a scheduling conflict with the filming of his feature "White Noise 2: The Light," to be released January 5. Fillion said: "
I was a little disappointed because Tim is a friend, and there is nothing better than working with people you know and like.
" At a summer barbecue, after the pilot was shot but before Fox picked it up to series, Minear asked Fillion to watch what was in the can, and Fillion enthusiastically agreed to do the series.
---
---
Mike Fright: Stand Up!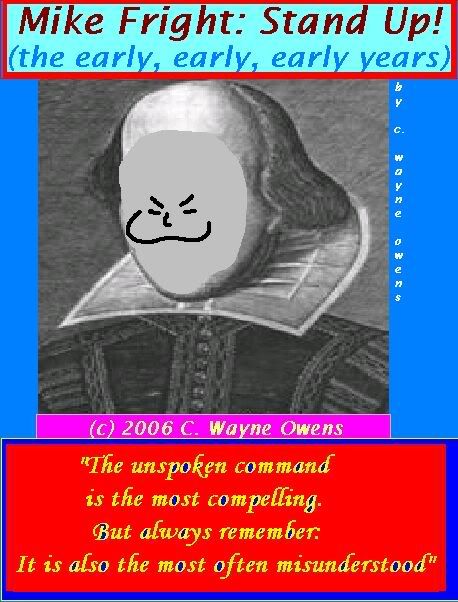 #394
Check Out:
The Mike Fright Site
!
---
---
Comic Previews
ComicsContinuum has posted preview pages for
The Escapists #6,
---
Outer Orbit #1
,
---
Conan #35
,
---
Criminal Macabre:
Two Red Eyes #1,
---
Ghost in the Shell 1.5:
Human-Error Processor #3,
---
Hellgate: London #2
,
---
&
Rex Mundi #3
---
---
Don't miss the C. Wayne Owens/Seymoure Store at our
CafePress.com Page
And C. Wayne Owens' New Publishing Site is
New Books by Wayne