---
---
---
The White Hotel
Brittany Murphy
is in talks to star in "
The White Hotel
," a movie based on the D.M. Thomas novel. Simon Monjack has written the adaptation and will direct. Murphy would play an opera singer seeking Sigmund Freud in post-World War I Vienna. She is driven to distraction by horrifying dreams about a white hotel, and becomes Freud's famous case study Anna G.. They work to find the keys to her memories and her premonitions of the future, which include the Holocaust. The movie will begin production in the spring in Vienna and Prague.
---
Trek Webtoon
The Trek Movie Report website has put up the story of the Star Trek web cartoons that CBS is considering. David Rossi, producer and writer, is quoted discussing the setting and drives behind them. The toons are planned as 5-6 minute mini-episodes like Cartoon Network's "Star Wars: Clone Wars," and take place several decades after the events of the last Star Trek movie. Several pieces of design artwork are posted with the article and at there is more at writer/artist Jeff Parker's weblog.
---
Neil Gaiman
on
Coraline
In his latest blog Neil Gaiman talks about his recent
set visit
of the stop-motion animation adaptation of his children's novella. The film is being directed by Henry Selick. Earlier entries have noted Gaiman's pleased reaction to what he has seen, although he is doesn't want to leak information to freely, since he is not sure what he is supposed to talk about.
---
Around the World in 80 Dates
The Jennifer Cox memoir will be directed by Andy Tennant and the script will be by Gwyn Lurie .The Universal Pictures project will be produced by Reese Witherspoon through her Type A Films production company. It's all about a British travel writer who looks for love by sending her profile to contacts around the globe. As she then follows up prospects around the world she dates the top 80 candidates in 16 countries.
---
---
Mike Fright: Stand Up!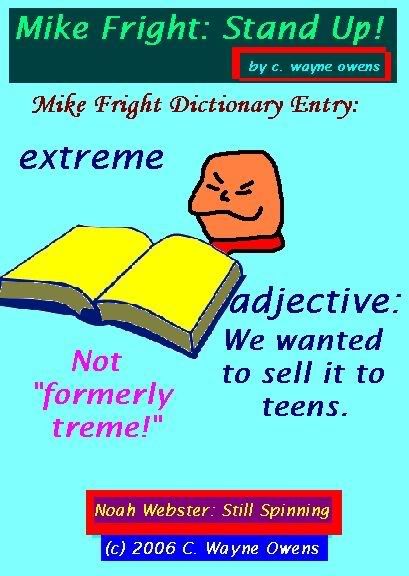 #395
Check Out:
The Mike Fright Site
!
---
---
Comic Previews
Comics Continuum has posted preview pages for
Justice League of America #4,
---
Ex Machina #25
,
---
Firestorm #33
,
---
Cybeforce/X-Men
,
---
Bomb Queen II #3
,
---
The Pirates of Coney Island #3
,
---
&
The Wonderful Wizard of Oz
---
---
Don't miss the C. Wayne Owens/Seymoure Store at our
CafePress.com Page
And C. Wayne Owens' New Publishing Site is
New Books by Wayne