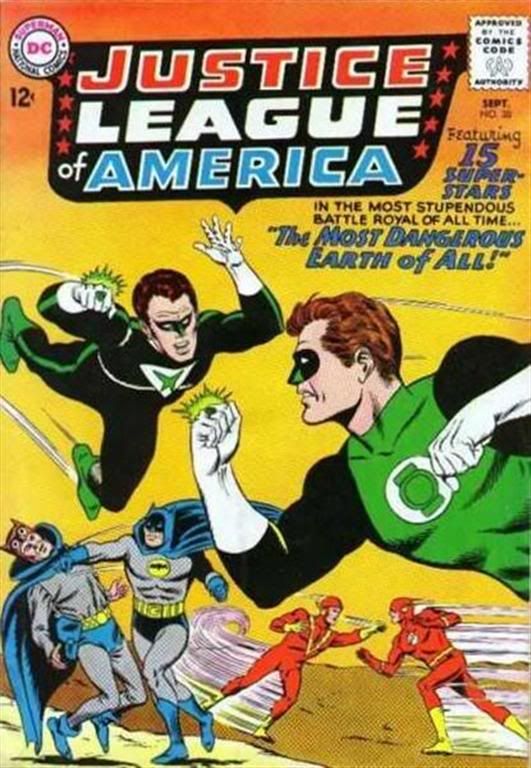 Justice League: Crisis on Two Earths
Ain't it Cool News has this plot and a couple of stills from DC's next animated film. It features the Crime Syndicate vs. the Justice League plus a "
Good Guy
" Lex Luthor. William Baldwin will voice Batman and James Woods will be Owlman. It is written by Dwayne McDuffie.
---
The Green Hornet
Deadline Hollywood reports here that, though Nicolas Cage has left the December 17th, 2010 project, he has been replaced by the stand out of "Inglourious Basterds," Christoph Waltz will take his place as the villain.
---
Indiana Jones 5
Slash Film spoke here to Harrison Ford and Karen Allen about the Summer - 2012 sequel. Ford said: "
The story for the new Indiana Jones is in the process of taking form…Steven Spielberg, George Lucas and myself are agreed on what the fifth adventure will concern, and George is actively at work. If the script is good, I'll be very happy to put the costume on again.
" The article also has some video of Allen at Dragon Con, also talking about the film.
---
TV DVD News
TVShowsOnDVD.com has posted info about "Justice League" (Complete Series) here, "Sordid Lives: The Series" (Complete Series) here, "It's Garry Shandling's Show" (Complete Series) here, "Werewolf" (Complete Series) here, "Perry Mason" (Season 4, Vol. 2) here, "Bonanza" (Season 1) here.
---
Lost
Sci Fi Wire
hints here that Damon Lindelof and Carlton Cuse have revealed that season 6 will bring characters back who've been killed off, including those who died the first season. Dominic Monaghan said: "
I think a lot of times recently there's been talk of us hanging out, and why would they be hanging out other than talking about Lost? We had breakfast one time, and I think that was the reason why a lot of these Lost rumors started. I'm sure they would be keen to bring back certain characters this season.
" Season 6 premieres with a two-hour special titled "
LAX
" early next year.
---
Silent Hill 2
The Hollywood Reporter says here that, with no other details available, the 2010 sequel is in the early planning stages.
---
Harvey
The PlayList tells us here that the 2011 "
reimagining
" will be directed by Steven Spielberg and have Robert Downey, Jr. playing Elwood P. Dowd.
---
Special thanks to Movie Goods.com for so many of the dynamite movie posters we use from time to time. You cannot find a better place to run down those new or classic posters.
---
Comic Previews

Comics Continuum has posted preview pages of
Agents of Atlas #11,
---
Amazing Spider-Man Presents: Anti-Venom -- New Ways to Live #1,
---
Dark Avengers #9,
---
Mighty Avengers #29,
---
Thor Annual #1,
---
Dominic Fortune #2,
---
& Captain America: Reborn #3
---
---
---
---
---