The Green Hornet
The Hollywood Reporter blog brakes the news here that Nicolas Cage has left the project's villain role over artistic diffences. To prove that Cage has already signed for the lead roles in both "Drive Angry" and "The Hungry Rabbit Jumps." A search fro a replacement is underway.
---
Doctor Who & the Daleks
ScreenRant gives us a heads-up here that the eternal battle continues early on in the upcoming new season. In an episode written by Mark Gatiss, the Doctor and his companion land in World War II London, meet Churchill and then meet the most famous of his arch enemies.
---
Children of the Corn
There seem to be two remakes of the Stephen King film in the offing. iconsoffright.com has this story about original producer Donald Borchers' reboot that will premiere on SyFy on Sept. 25. They also say that Bob Weinstein (who is also developing a remake of one of my favorite films of all time "The Seven Samurai") will be doing his own "
re-envisoning
." Weinstein said: "
We felt the New World film [the 1984 version] was a missed opportunity. If you read the short story, it's got such a strong feeling to it and there's this religious overtone to it as well. Ehren wants to hit it hard. It's popular in Hollywood to say you re-envisioning a project but a lot of the time they're just carbon copying the original. We are bringing something new to the story.
" No production dates or release schedul is available.
---
TV DVD News
TVShowsOnDVD.com has posted info about "The Spectacular Spider-Man" (Vol. 5) here, "SpongeBob SquarePants" (Season 6, Vol. 1) here, "Sanctuary" (Season 1) here, "The Sopranos" (Complete Series) here, "The Fugitive" (Season 2, Vol. 2) here, "Star Trek: The Next Generation" (Best of . . . Vol. 2) here.
---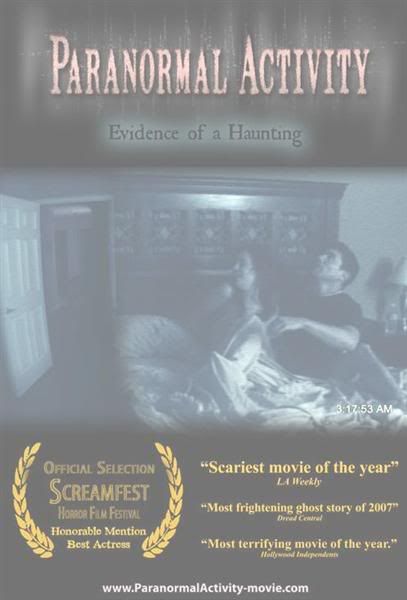 Paranormal Activity
Thompson on Hollywood tells us here that the film that spooked the heck out of people at the Telluride Festival has been picked up for some re-cutting and then distribution by Paramount Pictures. The $11,000 film by writer/director Oren Peli will be released on Sept. 25. (For those who have heard nothing about it, the film is most often likened to "The Blair Witch Project." That will keep some of you away, but I'll be in line.)
---
Resident Evil: Afterlife
Bloody Disgusting reports here that the fourth film in the series, with a slotted August 27, 2010 release, will have 3D done by the same team working on James Cameron's "Avatar." They also let slip that the fifth film, in pre-production already, will be a reboot (or possibly a prequel, as they say it will "precede the trilogy.") They will call the 5th movie "
Resident Evil Begins
," and no one is saying if Milla Jovovich is involved with either installment.
---
Akira
Collider says here that the reports of the project's death are premature. They say that Mark Fergus and Hawk Ostby are doing a script, and if it gets accepted then the movie could go into production as soon as next year, and be released in 2011.
---
Special thanks to Movie Goods.com for so many of the dynamite movie posters we use from time to time. You cannot find a better place to run down those new or classic posters.
---
Comic Previews

Comics Continuum has posted preview pages of
Executive Assistant: Iris #3,
---
Angel: Only Human #2,
---
Astro Boy Movie Adaptation #4,
---
Fallen Angel: Reborn #3,
---
The Life and Times of Savior 28 #5,
---
Star Trek: Nero #2,
---
& Transformers: Tales of the Fallen #2
---
---
---
---
---