Thor
Marvel Editor-in-Chief Joe Quesada has come forward, in this article for MTV, with the official position on Kenneth Branagh and the Norse God of Thunder. Quesada says: "
[Branagh] understood that there was this very, very big tapestry of the Marvel movies… There's continuity within the movies and he really wanted to play within that and wanted it to be part of the other movies. He was really, really loving the interconnectivity between all of these characters, and even thinking ahead as to how does 'Thor' interrelate with the 'Iron Man' movies. How will he interrelate with the Avengers movies, and how do we set these things up.
" The new later release date for this film is June 17, 2011.
---
Rome
If you were, as was I, a fan of the HBO series, you may be as thrilled as I to hear that the proposed film sequel is going to happen. Here on Movie Web producer Ray Stevenson had this to say: "
It is no longer a smoke and mirrors rumor. The script is in full development. As you are probably aware, this is a pretty strange process. We could go into production in a year, or it could be as quick as six months. Who knows? It will happen. At least it is no longer a rumor. From what I have heard, they are nearing the end of script development. We shall see. We shall see.
" The original cast is said to be coming back, as is writer Bruno Heller. The proposed release is for late 2010 or early 2011.
---
TV DVD News
TVShowsOnDVD.com has posted info about "Cannon" (Season 2, Vol. 1) here, "Perry Mason" (Season 4, Vol. 1) here, "Law & Order: Special Victims Unit" (Season 9) here, "Steve Canyon" (Vol 2) here, "Reaper" (Season 2) here, "The Hunger" (Season 1) here.
---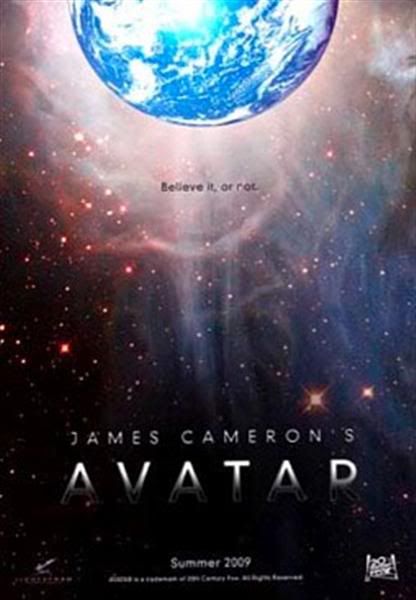 Avatar
James Cameron's film is the subject of this article in Time. The CGI-Live Action mix in 3D is hard to classify. Cameron says: "
The film uses two unrelated technologies: e-motion capture, which uses images from tiny cameras rigged to actors' heads to replicate their expressions, and digital 3D. [
Most of the tech has been created by Cameron himself
] I couldn't tell what was real and what was animated - even knowing that the 9-ft.-tall blue, dappled dude couldn't possibly be real. The scenes were so startling and absorbing that the following morning, I had the peculiar sensation of wanting to return there, as if Pandora were real.
" The film [which reportedly carries a production budget of more than $200 million] will be released on December 18th 2009.
---
Silver Surfer
Brett Ratner told MTV News in this interview that all the good super-heroes have been done. He said: "
I would do any superhero movie that I was asked to do. But I wouldn't have been interested in 'Iron Man.' I have a lot of respect for [Jon Favreau], because to me, it was a B-character. 'Iron Man'? … But look what he did. I was so upset when I left 'Superman.' [Bryan] Singer has his 'X-Men,' [Christopher] Nolan has 'Batman' - there's nothing left. 'Hulk' has been exploited already. There's nothing left for me. I mean, I'm not going to go and do the Silver Surfer or something.
" True, Brett, true.
---
Comic Previews

Comics Continuum has posted preview pages of
Wolverine Noir #1,
---
Daredevil Noir #1,
---
Curse of the Were-Woman,
---
Zorro #11,
---
Red Sonja #42,
---
Amber Atoms #2,
---
& Proof #18
---
---
---
---
---