Fathom
Megan Fox
will reportedly play Aspen in Fox Atomic's the big screen version of the Top Cow comic book series Fathom. The comic book, created by the late Michael Turner and in development since 2001, when James Cameron's Lightstorm Entertainment acquired the rights, tells of an amnesiac aquatic creature brought to dry land. Reported thus at IESB: "
The studio is currently out to several writers to bring aboard to revamp the script as a vehicle for Megan Fox, who, our source says, has officially signed onto the project this week. Fox is set to play the lead character of Aspen.
"
---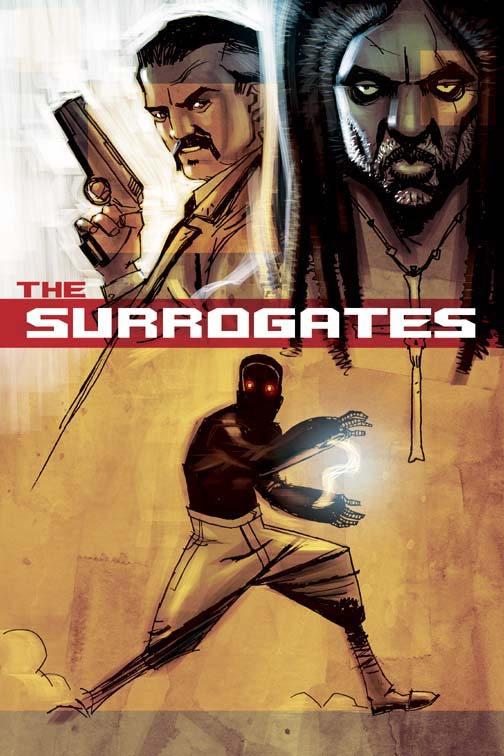 Surrogates
Rob Venditti
told MTV over here about the film version of his work, saying: "
There are always going to be changes when you're going from any type of medium to another medium. To me, the most important part of the graphic novel is the relationship between Greer and his wife, because it humanizes the whole idea of surrogates, and that's going to be in the film ... It's very much a story about the characters more than about the explosions.
"
---
TV DVD News
TVShowsOnDVD.com
has posted info about "Matlock" (Season 2) here, "Brothers & Sisters" (Season 2) here, "Samantha Who?" (Season 1) here, "Grace Under Fire" (Season 1) here, "Daniel Boone" (Season 6) here, "The Waltons" (Season 8) here and "Nip/Tuck" (Season 5) here.
---
Hairspray 2?
Queen Latifah
told MTV that a sequel the movie musical may be in the works. Latifah said: "
I got an e-mail from people connected to the last movie, it said: 'Keep your ears peeled.' I don't know what he's writing or what the concept is. It should be lots of fun. I'd love to do another one. I'm around.
"
---
The Lone Ranger
Hold on to your hat! Jerry Bruckheimer is making "
The Lone Ranger
" for Disney and Johnny Depp is going to wear the mask! More when more becomes available. Word is that he will also do a fourth Pirate movie and be The Mad Hatter in Tim Burton's "Alice in Wonderland"
EDIT: Late word from Yahoo News says that Depp will play Tonto, not the Lone Ranger. ADDTIONAL RUMOR: George Clooney is being mentioned for the Lone Ranger role.
---
---
Comic Previews
Comics Continuum has posted preview pages of
Astonishing X-Men: Ghost Boxes #1,

---
X-Men: World's Apart #1
,
---
Fall of Cthulhu: Godwar #2
,
---
Station #3
,
---
Warhammer 40,000: Extermiantus #3
,
---
Warhammer: Condemned by Fire #4
,
---
&
Conan the Cimmerian #4
---
---
---
---
---