Avengers
Comic Book Resources
reader Ken Egan reported here that MTV has corrected something from this story. They said: "
Our original report inferred that Mr. Quesada had suggested that the chances of an 'Avengers' film happening were 'pretty astronomical,' when he was in fact discussing the possibility of a 'Marvel Team-Up' movie featuring such characters as Spider-Man and Wolverine. Our apologies to Mr. Quesada.
"
---
The Champions
While at work on "Hellboy II: The Golden Army," director Guilermo del Toro is planning a feature-length remake of 1960s sci-fi series "The Champions." In The UK show a plane crashlands in the Himalayas, and the three survivors find they have been granted powers "
to the limits of known human abilities.
" Variety says del Toro will write, produce and direct, if it doesn't conflict with his project spoken of here, his own adaptation of H.P. Lovecraft's "At the Mountain of Madness.
---
TV DVD News
TVShowsOnDVD.com
has posted info about "One Foot in the Grave" (2 More Seasons) here, "Sam & Max: Freelance Police" (Complete Series) here, "The Riches" (Season 1) here, "The Equalizer" (Box Art) here, "Cops" (20th Season Anniversary) here, "George of the Jungle" (Complete Series) here, "The New Adventures of Old Christine" (Season 1) here, and "Futurama" (Bender's Big Score) here.
---
The Ghost
The Guardian
says here that Roman Polanski will direct an adaptation of Robert Harris's "
The Ghost
." The political thriller called "
a thinly veiled attack on the former British prime minister Tony Blair.
" Polanski said: "
I have been looking for a political thriller to direct for some time, and The Ghost could not be more perfect. Robert has constructed a novel with such suspense, it is hard to put down.
" The story is about a disgraced former prime minister who faces the threat of being tried for war crimes at the Hague. He is writing his memoirs while he hides out in Martha's Vineyard. Terrorist bombings riddle London. Harris says of the Blair connection: "
I cannot deny that there are similarities. Roman Polanski is a terrific director of tense thrillers, and I couldn't imagine a better person to make a movie out of The Ghost. There's a lot of psychological intrigue in the story, as well as espionage and politics, and most of the action takes place in an ocean-front house during the middle of winter - all of it classic Polanski territory. I am thrilled to be working with him on the screenplay.
"
---
Hitchcock
Anthony Hopkins
has signed on to play Alfred Hitchcock. Hopkins feels he's the right guy to pay a proper tribute to HItchcock. Hopkins said: "
I'm not one of those guys who went to film school and watched Hitchcock movies in order to study, but I admire people who know all about Hitchcock. I'm a real Hitchcock fan. I know all about the movies and had a closer look at why he set that shot up in the way that he did and the skill and rhythm of his movies like
Rear Window
and
Vertigo
. He was really quite astonishing and there's so much wit to his work. I think those scenes between
Grace Kelly
and
Jimmy Stewart
in Rear Window are so witty and sophisticated. This film I'm going to do is about the making of Psycho and Hitchcock's doubts about himself. He never had any real confidence and never felt that he was successful. He always felt a bit like a failure. I met him once very briefly. He was sitting at a place called Ma Maison and I was sitting with my agent . . . He had just been knighted and he was very heavy, enormous; he looked ill. That was my one contact with him.
"
---
---
Mike Fright: Stand Up!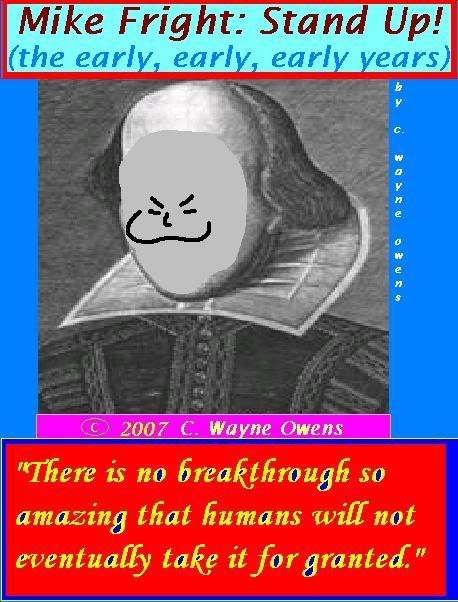 #721
Check Out: The Mike Fright Site!
---
---
Comic Previews
Comics Continuum has posted preview pages of
The Immortal Iron Fist #10,
---
Omega the Unknown #2
,
---
The Order #4
,
---
Silver Surfer: In Thy Name #1
,
---
&
Annihilation: Conquest -- Star-Lord #4
---
---
---
<
---