Spider-Man 4
Superhero Hype
has posted news here from director Sam Raimiabout the next Peter Parker film: "
Right now, Sony is meeting with different writers to try and bring a fresh new story and approach to the 'Spider-Man' franchise, so I've been in meetings with
Avi Arad
and
Laura Ziskin
, the producers, and
Amy Pascal
. Different writers have been coming in and spinning different tales of where 'Spider-Man' can go from here.
"
---
The Shadow
Sam Raimi has also spoken about one of his pet projects, a take on the 1930's pulp hero "
The Shadow
." He personally owns the full "Shadow" rights. Raimi said: "
I don't have any news on 'The Shadow' at this time, except that the company that I have with Josh Donen, my producing partner, we've got the rights to 'The Shadow.' I love the character very much and we're trying to work on a story that'll do justice to the character.
" Currently the project is slated for a 2010 release.
---
Hellraiser
Clive Barker
is producing a remake of his hit 1987 horror film "Hellraiser" that will get the treatment. The film will be written and directed by French filmmakers Julien Maury and Alexandre Bustillo, and plans are to release the film before the end of the year.
---
TV DVD News
TVShowsOnDVD.com
has posted info about "Mission: Impossible" (Season 3) here, "Torchwood" (1st Season) here, "The Young Indiana Jones Chronicles" (Preview Clips) here, "Star Trek" (Hi-Def Season 2) here and "Angel" (Complete Collection) here, "Beauty and the Beast" (Season 3) here, "Legion of Super-Heroes" (Second Release) here and "All-New Super Friends Hour" (Season 1, Vol. 1) here.
---
Fox
Leaves
C.S.I.
Jorja Fox has told EW.com she has left the drama, saying she wants to explore other opportunities. Fox said: "
There are all these things I want to do. Some are personal. Some are professional. And I really need to do some of them before I get too old. If I thought the show were on its last legs, I would have tried harder to stay the course. But I feel like it's going to be around for a while, so if I don't want some of those dreams to pass me by, I have to get off the ride for a while.
" Fox will make her last appearance as Sara Sidle in an episode to air next month.
---
Sci Fi
Gets Lost
Sci Fi Channel and videogame-oriented outlet G4 have won the replay cable rights to ABC's "Lost," and will start airing them next fall. Sci Fi will "
stack
" the drama in a weekly four-hour primetime block, possibly on Monday nights, and also has obtained the right to stream a limited number of episodes at SciFi.com. G4 will air the show as a primetime strip (Monday-to-Fiday) will give "
Lost
" the same interactive treatment it has given such acquired series as "Cops" and "
Star Trek
," dubbing it "
Lost 2.0
" and offering viewers multiple interactive and Web-enabled elements. G4 will stream a limited number of episodes at G4tv.com.
---
---
Mike Fright: Stand Up!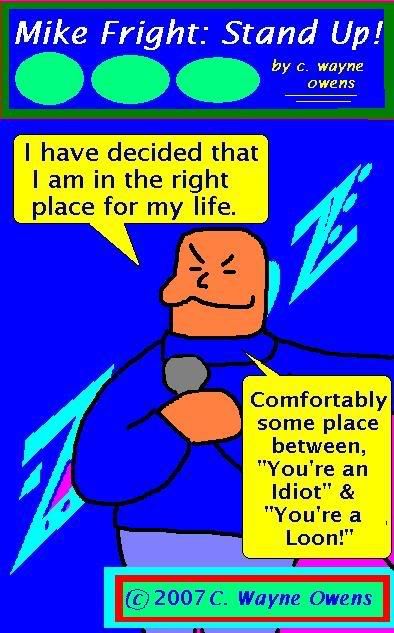 #694
Check Out: The Mike Fright Site!
---
---
Comic Previews
Comics Continuum has posted preview pages of
Simon Dark #1,
---
B.P.R.D.: Killing Ground #3
,
---
Star Wars: Dark Times #5
,
---
Star Wars: Knights of the Old Republic #21
,
---
Blade of the Immortal #130
,
---
Dynamo 5 Vol. 1: Post-Nuclear Family
,
---
&
Noble Causes Vol. 7: Powerless
---
---
---
---