Ray Harryhausen
C.H.U.D.
has posted this interview with Ray Harryhausen. It covers both the remake of "Clash of the Titans" and the colorized version of "20 Million Miles to Earth" on DVD.
---
Wonder Woman
Joss Whedon
told Entertainment Weekly in this article: why he didn't do panels at the San Diego Comic Con: "
I couldn't stand the idea of one more person asking me who was going to play Wonder Woman. I in no way want this to be a slam on
Warner Brothers
, but the fact of the matter is, it was a waste of my time. We never [wanted] to make the same movie; none of us knew that. And it was a waste of their time because I had a lot of trouble writing, not just writing that, but writing at all. Part of it had to do with having just finished '
Serenity
'. I ran into
James Gunn
, who'd just done his first film,
Slither
. And he was like, 'The director in me killed the writer in me.' And we fell on each other. It was like finding a support group. After you direct and edit something, you just realize everything is negotiable. The line that you died for, you pull without hesitation because [the script] seems a little long. He was like, 'Every time I sit down to write I think, Is this even going to make it in?' And you can't write like that.
" On another subject Sci Fi Wire reports a "
solid chance
" that Whedon will produce a 90-minute BBC TV film highlighting the character of Rupert "Ripper" Giles (Anthony Stewart Head), according to novelist Suzanne Brockmann, one of five winners of an auction for a private dinner with Whedon at Comic-Con. Brockmann was one of five people who paid winning bids of between $9,400 and $11,100 per seat for dinner with Whedon, which benefited Whedon's pet charity, Equality Now, which advocates for women's rights around the world. Her account was posted on her official Web site.
---
TV DVD News
TVShowsOnDVD.com
has posted information on "Doctor Who" (Season 3) here, "The Gumby Show" (Volume 1) here, "Alien Nation" (TV Movies) here, "The Johnny Cash Show" right here, "Aquaman" (Complete Animated Series) here, "The Super Powers Team: Galactic Guardians" (Complete Animated Series) here and "MST3K" (12th Collection) here.
---
Defiance
Ed Zwick
is directing the Paramount Vantage film from his adaptation of Nechama Tec's book "
Defiance: The Bielski Partisans.
" Liev Schreiber, Jamie Bell and Daniel Craig will star in the fact-based story about Jewish brothers (Craig, Schreiber and Bell) living in Nazi-occupied Poland who escape into the Belarussian forest and join Russian resistance fighters. They build a village in the forest and save the lives of more than 1,200 Jews.
Alexa Davalos
will play Lilka, a Polish refugee and Craig's love interest. Tomas Arana play Ben Zion, a resistance leader.
---
Criminal Minds
Harvey Keitel
is in negotiations to join the CBS drama "
Criminal Minds
,"
filling the Mandy Patinkin spot on the roster. Following Patinkin's exit, for what he termed "
creative differences
," the show's producers have been searching for a big-name star to play a new central character.
---
---
Mike Fright: Stand Up!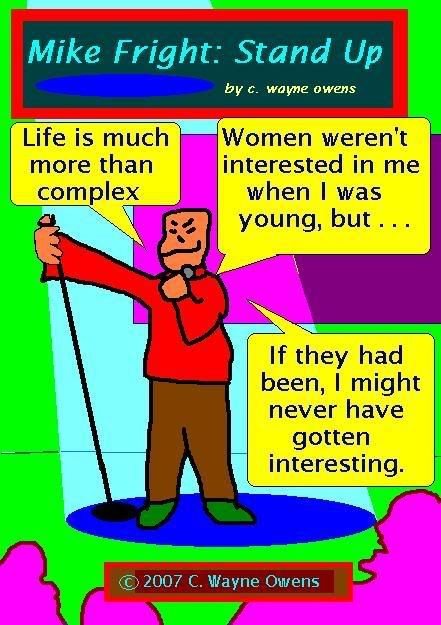 #628
Check Out: The Mike Fright Site!
---
The Long Summers of the Setonville Murders
Hannibal Agamemnon is just a small town sheriff. He was going to be a lawyer, but he was drawn back to the little town he came from and they made him sheriff. Ten years ago, a series of vicious child murders grabbed the national headlines and brought the FBI into quiet little Setonville. The murders were never solved, and after a while things died down. Hannibal retired, and he and his wife were happy. And now it is all starting again.
---
---
Comic Previews
Comics Continuum has posted preview pages of
Hedge Knight II: Sworn Sword #3,
---
Ghost Rider #14
,
---
Incredible Hulk #109
,
---
New Avengers #33
,
---
New Avengers/Transformers #2
,
---
&
New Excalibur #22
,
---
---
---
---