Occult Crimes Task Force
Rosario Dawson
spoke with Comics2Film over here about writing comics: "
With acting, I've been doing that for thirteen years and no one ever asked me about how I wanted to edit it or how I wanted to market it or how to do any of that stuff. I've learned a lot of really great things and I've also seen a lot of things that I would never want to do personally and I've learned from that.
" The film is not due out until 2010.
---
Dan Dare
Variety
reports that Virgin Comics is in the process of adapting the old Eagle Magazine stories from the 50s into a new comic series and a feature film. Dare, the British version of "Buck Rogers," should be hitting the comics stores this November, written by Garth Ennis. Ennis said: "
Dan Dare is the quintessential British hero. He's our Captain America, our Superman, our Batman; he's all of them rolled into one.
"
---

Keanu Reeves will star in the remake of the 1951 film "The Day The Earth Stood Still." The will be directed by Scott Derrickson with a David Scarpa script and production starts later this fall-early 2008.
---
Criminal Macabre
Steve Niles
has comented on his refusal to change an important aspect about the comic mini-series' lead character. He said: "
Instead of the old Philip Marlowe, who's a recovering alcoholic, [Cal] is a recovering junkie. That's all. Recovering. It's not like Cheech & Chong, endorsing [drugs]. So, I've had to yank it from the studios who wanted to sanitize it.
"
---
The Ten Commandments
Variety
reports here that Promenade Pictures has set an October 26th release date of its CGI-animated version of The Ten Commandments. With an $11 million budget, the film is directed by Bill Boyce and John Stronach from a screenplay by Ed Naha and the voices of Ben Kingsley as the narrator,
Elliott
Gould
as God, Christian Slater as Moses and Alfred Molina as Ramses. The official site features trailers, a behind-the-scenes look, the films' poster, wallpapers and more.
---
---
Mike Fright: Stand Up!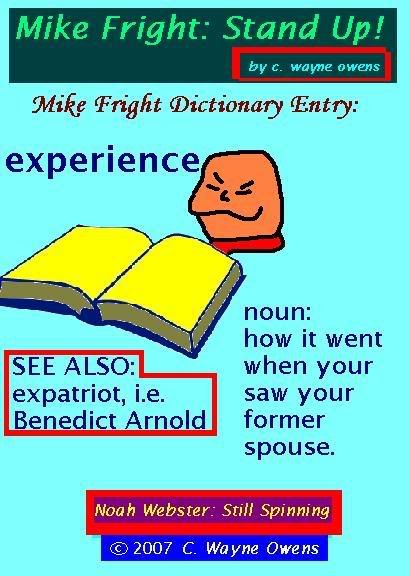 #642
Check Out: The Mike Fright Site!
---
The Hacksaw, the Rose & the Parthenon Parrot
Sebastian Claus was known as an authority on supernatural activity, but, this was something neither he nor his extraordinary team had ever encountered:
a book whose owners all died at the hands of fictional characters.
Even when Paranormal P.I. Harriett Dante was brought into the case,
nobody was aware of just how bizarre this was going to get.
And if they don't solve the riddle, the world will end in fire!
---
---
Comic Previews
Comics Continuum has posted preview pages of
Captain America: The Chosen #1,
---
Amazing Spider-Man #544
,
---
Iron Man: Enter the Mandarin #1
,
---
Hiding in Time #2
,
---
&
Invincible #45
---
---
---
---