Flash Gordon
If you watch the
SCI FI Channel
miniseries "Tin Man" (a revisionist version of "
The Wizard of Oz
") and then see the same channel's "
Flash Gordon
" mini (which starts production May 1 and debuts on Aug. 10.), you'll feel right at home. "
Tin Man
," filming in Vancouver, Canada, will allow the latter series to reuse some of its more elaborate sets. Mark Stern, SCI FI's executive vice president of original programming, told SCI FI Wire: "
There are some elements of the villain in Tin Man that are similarly dictatoresque in the villain Ming the Merciless on Mongo [in Flash Gordon]. The Wicked Witch in Tin Man definitely has this dictatorship thing going on. So her palace has this Albert Speer-like 1930s design, with Roman columns and fascinating big elaborate halls. So we could retool and repaint and change the glass, and it will be very distinguishably different.
"
Eric Johnson
will play the title role. He said "
Flash Gordon has a retro-futurisitic feel. It's the same company making both shows, so whatever you can beg or borrow makes sense. We're shooting in Vancouver, same place, but this is a very different set. It's like if someone gave you the frame of a car, and you can easily put a new engine in it.
"
---
Grindhouse
Everyone has been taling about "
Grindhouse
," the Robert Rodriguez-Quentin Tarantino film only being released on DVD in Britain.
The London Independent
reports: "
All is not yet lost, though
," the newspaper said, noting that Tarantino is recutting his half of the movie, "
Death Proof
," and submitting it for competition at the Cannes Film Festival in two weeks.
---
Second Sight
Variety
reports that "Second Sight," the BBC detective series about a detective trying desperately to solve a murder before he goes blind, is to be made into a theatrical movie by Universal. The TV series starred Clive Owen, but Owen has not been signed to the theatrical version.
---
Speare
A Canadian university has decided to introduce video game players to Shakespeare with a video game called "
Speare
." Professor Daniel Fischlin, who headed the team at the University of Guelph in Ontario that developed the game, said: "
The game is a way to capitalize on the time that kids spend on computers. I don't know of another medium that has seven-year-olds spouting Shakespeare.
" "
Speare
" was launched to coincide with the anniversary of Shakespeare's death after two years of development.
---
Harley Quinn
ComicBookMovie.com

is among several sources saying that

Sarah Michelle Gellar

will play the Joker's paramour in "The Dark Knight."
---
Minisodes
For those who grew up on
Reader's Digest Condensed Books
, this story will seem a bit familiar. Sony is retooling full-length episodes of such TV series as "T.J. Hooker" and "
Starsky & Hutch
" into "minisodes" for the Web. These will run from 3-1/2 to five minutes in length and include a complete story arc and be available on the Minisode Network, Sony's ad-supported Internet-based service that will launch in early summer on MySpace. Those episodes are expected to migrate to other outlets on the Web. Steve Mosko, Sony Pictures Television president, said: "
We looked at our library and asked how we could fit this content into where the world is going in terms of watching entertainment on the Web. We thought this was the way to apply that logic of YouTube viewing to scripted drama that is fun and interesting.
" "Hooker" and "Starsky" join more than 300 minisodes already produced from such shows as "Charlie's Angels," "Diff'rent Strokes," "The Facts of Life," "What's Happening," "Whose the Boss," "The Partridge Family," "Silver Spoons," "Sheena," "V.I.P.," "Police Woman," "Dilbert," "
Ricki Lake
" and "Fantasy Island." Mosko said these versions of the episodes are not meant to replace the original series but instead serve as an adaptation of the content from Sony's library of 16,000 TV episodes to the Internet and mobile business. Mosko said: "
They're meant to be fun and campy. "They've actually brought more attention to these classic shows than they've gotten in a long time.
"
---
---
Mike Fright: Stand Up!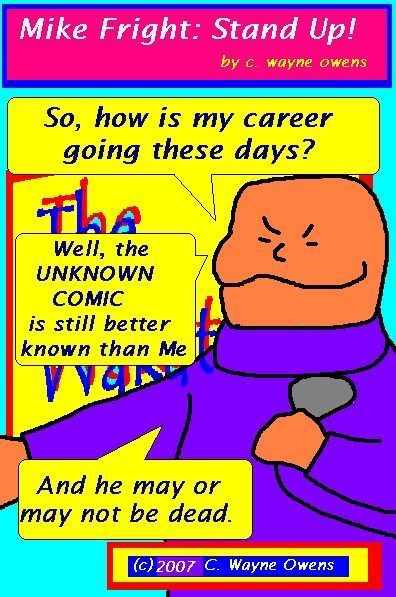 #526
Check Out: The Mike Fright Site!
---
1411657071
Harry Dante was what he wanted to be: a gumshoe. He had wanted to be a detective from childhood, and in the 1940's he was pretty good at it. Then things went wrong. Things started happening that shouldn't be part of a hard-boiled Kansas City private eye's days. Part of that must have been taking that job near Roswell, New Mexico. Strange stuff, strange people, and more mysteries than most people would ever encounter. Everything Harry Dante had going for him might not be enough. Not by a long shot.
---
---
Comic Previews
Comics Continuum has posted preview pages of
Friendly Neighborhood Spider-Man #20,
---
Ghost Rider: Trail of Tears #4
,
---
Incredible Hulk #106
,
---
Loners #2
,
---
&
Spider-Man Loves Mary Jane #18
---
---
---
---