Upcoming Projects
Brian Jacks
wrote here for MTV about upcoming comic book based films, including "Witchblade," "Rex Mundi," "Ex Machina," "Talent," "30 Days of Night," "The Darkness," "The Spirit," "Y: The Last Man" and others.
---
Planet One
Variety
reports that
Handmade Films
and Ilion Animation will join forces on the CGI film, "
Planet One
." Written by
Joe Stillman
, it is an alien invasion story turned on its head. The inhabitants of Planet One, who have two antennae and eight fingers and a persistent fear of alien invasion, find themselves confronted by a human astronaut. Production starts this May and has a budget around $50 million. They are looking for a Christmas 2008 or Easter 2009 release.
---
Grey's Anatomy
Katherine Heigl
has walked away from contract talks with "
Grey's Anatomy
" over a salary dispute. She is reportedly upset about receiving less money than her co-stars.
People magazine
says: "
Katie is disappointed and hurt that (the show's producer) Touchstone doesn't value her as much as her other co-stars, especially
Sandra Oh
and
Isaiah Washington
.
" Sources also say tension has emerged after a spin-off series was announced featuring
Kate Walsh
's character, Dr. Addison Montgomery. Star magazine says: "
The rest of the cast seemed instantly resentful of (Walsh). They each thought they'd be the one chosen to get their own show, and now they're giving Kate the cold shoulder.
"
---
TV DVD News
TVShowsOnDVD.com
has news about several series that will or won't be coming soon. It seems the new "MacGyver" box is not on the schedule, you can read about that here. "Animaniacs" news is here, "Pinky & the Brain" stuff is here. "The Hardy Boys/Nancy Drew Mysteries" is coming out, find out about that here.
---
The Lives of Others
Variety reports that the Oscar-winning German film "
The Lives of Others
" is about to be remade. The project is being developed by Bob and
Harvey Weinstein
, and filmmakers Sydney Pollack and
Anthony Minghella
. Pollack said: "
We would just desperately love for that film to be something that reaches more people (via the remake). We haven't gotten locked into making it yet, but we're working hard at trying to get it going.
" The film tells of a secret agent in 1980s East Germany who wiretaps the apartment of an artistic couple, and then finds himself sucked into their lives, with tragic consequences.
---
---
Mike Fright: Stand Up!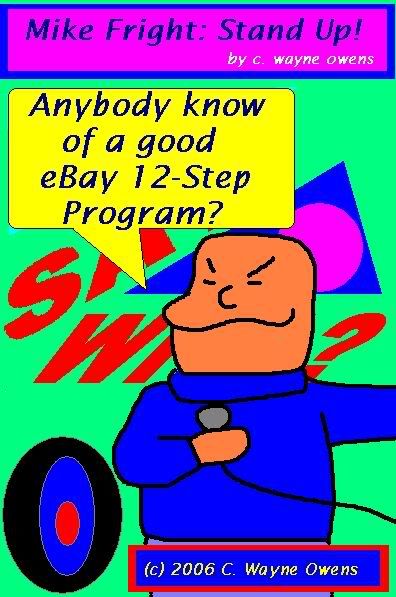 #465
Check Out:
The Mike Fright Site
!
---
---
Comic Previews

Newsarama
has posted the whole "
Witch Hunt
"
story line with full issues of
Witchblade #80,
---
Witchblade #81
,
---
Witchblade #82
,
---
Witchblade #83
,
---
Witchblade #84
,
---
&
Witchblade #85
---
---
---
---