Raimi's Hobbit?
The Los Angeles Times
has printed
an article
that confirms rumors that
Sam Raimi
is currently in negotiations to direct "
The Hobbit
." More when we know more.
---
The Dark Knight
Everybody now knows that Katie Holmes has left the project, but Film Ick says here that Rachel McAdams may be taking her place. On another Batman film story
Darren Aronofsky
said the following about the films: "
I was never planning to direct Year One. I was more interested in writing a screenplay with
Frank Miller
on Batman. My pitch was always very realistic. I wasn't interested in fantasy, I was interested in the psychology of a real man dressing in a disguise to pay out real vengeance. The Batmobile was a souped up lincoln continental with a bus engine. It was technical and rusty and extremely violent. They would have never let us have violence.
" Christopher Nolan is listed as the director of this movie, as he was on the previous.
---
Heroes
Sci Fi Wire
is talking to several folks on the NBC hit, first there is Zachary Quinto who plays super powered serial killer Syler: "
I think he's somebody that sort of got overtaken by a desire that he didn't expect to overtake him as powerfully as it does. And it starts from a place of really just wanting to be valued and desired, and it evolved into something that is really insatiable. And that's sort of what carries him: It's this insatiable hunger. I think he enjoys it to a certain degree. I think he certainly is aware of what he's capable of. But I don't think that it's something that he is sort of going after for the sake of going after it.
" When they spoke to chow creator Tim Kring, he told them, yes, there will be a cliffhanger at the end of this season. The sow was recently gien a second season ticket, and Kring said that the first season will resolve the current apocalyptic story arc, in which Hiro Nakamura (Masi Oka) foresees a nuclear detonation in New York. He said: "
Yes, absolutely. That will be resolved in the first season.
" The cliffhanger? "
It's not necessarily a cliffhanger in terms of what has been set up so far storywise. It's more of a cliffhanger as to the welfare and well-being of several of our characters . . . Obviously it plays into where we kick off at the [beginning] of season two.
"
SPOILERS AHEAD! STOP READING HERE IF THAT SORT OF THING IS AN ISSUE FOR YOU! THANKS, WAYNE
About the balance of season one, don't expect the villainous Sylar to stop. Kring tells us: "I love Zach Quinto, and I love what he's doing for the show. And the truth is I would like to continue and have him in the second season. They really want something from him. The organization that Jack Coleman's character [H.R.G.] works for is on some sort of obvious research-oriented, as we call it, tag-and-release program. So there are things that they are gleaning by getting each one of these people. And remember, he is a character who seems to be exhibiting more than one power, which is intriguing to them as to how and why." Will one or more of the main characters not make it to the end of the season. Can we get a guarantee? Kring said: "No, I can't say that." Heroes shows on Mondays at 9 p.m. ET/PT.

---
A Song of Ice and Fire
Variety
reports that HBO has picked up the rights to
George R.R. Martin
's fantasy series "
A Song of Ice and Fire,
" the first book of which is "
A Game of Thrones.
" The books will become a video series written and executive produced by David Benioff and D.B. Weiss. Benioff and Weiss are to write every episode but one, that one to be written by Martin. The channel's plan is to use each of the four books for the storyline of one season of the show. There is a expected 5th book, set to come out in this year.
---
Future of Bond
The Trades, has posted a recent interview with Robert
Wade and Neal Purvis about Bond, and the 22nd film in the franchise. About "Casino Royale" Purvis said: "The important thing was that Casino Royale was very much a character piece. It's something you really couldn't do with the other Bonds, because they were already up and running. If you gave them a problem, it wasn't something they could carry throughout the film very easily because it was something that just appeared there and then." Wade denies that rumor that Bond's next adventure will be based on Ian Fleming's short story, "Risico." He says: "That's not the case. The idea is for the movie to start shooting at the beginning of next year. It would be nice to have the draft next week. [Laughs]. The sooner the better. It's not an easy thing to do, because the bar was raised with the last picture, so we have to raise our game again. With the way 'Casino Royale' ends, you know there's still unfinished business for Bond. He may say, 'The name's Bond, James Bond,' but there's still a lot of stuff churning up inside him. So, if you're going to explore that, and we've got this great actor to do that with, what you don't want to do is suddenly clamp it down with all these familiar elements that keep your focus off him. He's the great asset." Purvis said: "Q presents more problems. People have all got gadgets now. Other films have lots of gadgets as well . . . The idea of Q coming back, for the moment, it's just not a high priority." Production on the next Bond film is expected to start early in 2008. The full interview is here.
---
End of TV
Microsoft Chairman Bill Gates spoke to the World Economic Forum, saying: "I'm stunned how people aren't seeing that with TV, in five years from now,people will laugh at what we've had." He predicted that scheduled programming, along with integrated commercials, will become a thing of the past as all TV is delivered over the Internet.
---
Imperial Life in the Emerald City
Paul Greengrass
has been hired to direct the film version of Washington Post journalist
Rajiv Chandrasekaran
's book, "
Imperial Life in the Emerald City: Inside Iraq's Green Zone.
"
---
---
Mike Fright: Stand Up!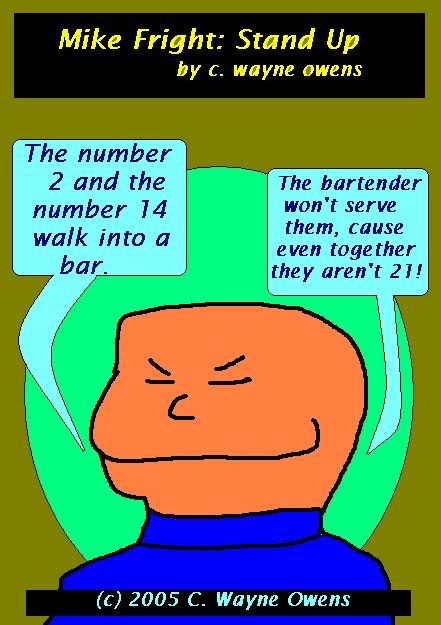 #435
Check Out:
The Mike Fright Site
!
---
---
Comic Previews
Comics Continuum has posted preview pages for
X-Men #195,
---
Anita Blake: Vampire Hunter in
Guilty Pleasures #4,
---
Annihilation #6
,
---
Daredevil #93
,
---
Ghost Rider Finale
,
---
Ms. Marvel Special
,
---
&
Ultimate Civil War Spider-Ham Crisis
(Featuring Wolver-Ham) #1
---
---