---
Blythe Metz
as
Wonder Woman
?
Comic Reel
posted an exclusive report from an insider that says Blythe Metz was asked by "
interested parties
" at the studio to create a video clip showing her martial arts abilities in relation to casting. The results can be seen in a video clip at a specially created MySpace page, which, by the way, also shows production stills.
---
NBC.com
NBC
is giving viewers the opportunity to watch all of the previous episodes of 30 Rock and Friday Night Lights for free at NBC.com between now and mid-January. They have also posted all the episodes of Heroes, so you can catch up before the show comes back. The programs will be streamed with two-minute recaps plus a commercial that viewers will be unable to skip. In a statement, Jeff Gaspin, head of the network's cable entertainment and digital distribution unit, said this was "
a great way to recruit new viewers, especially college kids who are home for Christmas break.
"
---
Tonight, He Comes
Production Weekly
reports that Charlize Theron and Jason Bateman will join Will Smith in the Peter Berg superhero film. Production begins in early May in Los Angeles, for a July 2, 2008 release.
---
Fox Out: Olbermann In
Fox News Network
has dropped out of the top ten cable outlets while MSNBC, on the other hand, has seen its primetime audience rise 25% over last year, with Keith Olbermann showing the largest gain. Reese Schonfeld, CNN co-founder, wrote on his website, http://www.meandted.com/: "
There is no question in my mind that Olbermann's anti-administration attitude is resonating with viewers, particularly the young ones. I guess the Democrats' Congressional victory has benefited MSNBC not CNN. It may be that wishy-washy CNN is stuck in the middle or perhaps stuck in a muddle
."
---
Teenage Mutant Ninja Turtles
The Patrick Stewart Network website states that Stewart will provide the voice for the insane tech-industrialist Max Winters. IMDb lists Mako as the voice of Master Splinter (making this voice work possibly the last thing he did). USA Today says that Sarah Michelle Gellar and Chris Evans will voice April O'Neil and Casey Jones, respectively, while Zhang Ziyi will portray evil Karai. That same article forwards the idea that Kevin Smith will have a cameo role, while the turtles themselves will not have celebrity voices. ComicBookMovie also has 4 pictures from the film posted here.
---
The Wedding Planners
Benjamin King
will now be part of the cast for David E. Kelley's new Fox series "
The Wedding Planners
." It is the story of three sisters -- Jane (Teri Polo), Sammy (Sarah Jones) and Annie (KaDee Strickland) -- all part of a family business. King will play Janes' husband and the wedding company's chief corporate officer. The show debuts in the spring.
---
---
Mike Fright: Stand Up!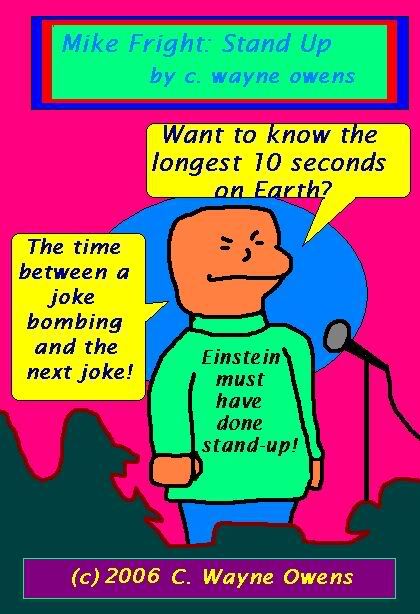 #402
Check Out:
The Mike Fright Site
!
---
---
Comic Previews
Comics Continuum has posted preview pages for
Friendly Neighborhood Spider-Man #16,
---
Wonder Man #2
,
---
Squadron Supreme: Hyperion vs. Nighthawk #1
,
---
Blade #5
,
---
Mythos: Ghost Rider
,
---
&
White Tiger #3
---