---
---
---
Disney Returns To 2-D
Jim Hill reported on http://www.jimhillmedia.com/ that John Lasseter and Ed Catmull plan to return the Walt Disney Co.'s studios in Burbank to its roots as a "
traditional
" (hand-drawn) animation company exclusively, letting Pixar turn out the computer-animated (CG) features. In so doing, Lasseter, the chief creative officer for Disney Animation, and Catmull, the unit's president, will be reversing the past three years of trying to "
retrain that studio's staff as well as to change Disney Feature Animation into a state-of-the-art CG operation
."
---
I Know Who Killed Me
Julia Ormond
joins Lindsay Lohan in
Chris Sivertson
's "
I Know Who Killed Me.
" Ormond will play the mother of a businesswoman set on letting her daughter live an independent life, then she is horrified when her daughter is kidnapped. The tension peaks when her daughter is found alive but insists she is someone else. Production begins this month in Los Angeles and New York.
---
Eliot Rockett
Jimmy Fallon
and Sharon Stone will star in "
Eliot Rockett
," based on short stories by Ethan Canin. Fallon plays a man devoted to his work but unable to commit to anything else in his personal life. After his estranged father suffers a stroke, he returns to his hometown. Stone plays his mother, a central figure in his dysfunctional past.
---
The Staircase
Treat Williams
, Samaire Armstrong and
Kevin Pollak
will star in the Lifetime original movie "
The Staircase,
" based on Aphrodite Jones' book "
A Perfect Husband
." The book was based on the real-life murder case of novelist Michael Peterson, accused of killing his wife in their North Carolina home. Williams portrays Peterson, a loving father, aspiring politician and successful New York Times best-selling novelist who was the picture-perfect husband to his socialite wife, Kathleen. After the author calls 911 to report that Kathleen has accidentally fallen down the stairs, suspicious investigators don't believe him. Armstrong will portray Peterson's stepdaughter Caitlin, who also accuses him of murder, while Pollak will play his lawyer, David Rudolf, who also has some doubts. Production has begun in Louisiana, with the premiere scheduled for April.
---
---
Mike Fright: Stand Up!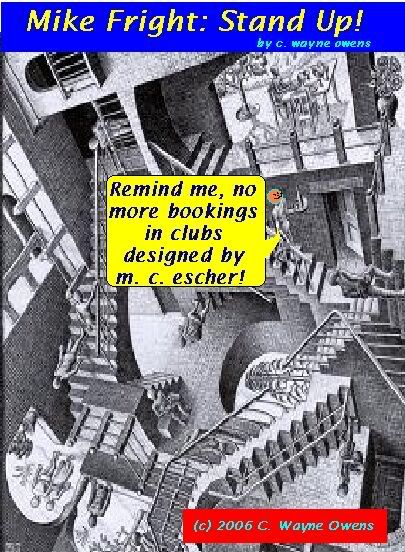 #397
Check Out:
The Mike Fright Site
!
---
---
Comic Previews
Comics Continuum has posted preview pages for
Cable/Deadpool #35,

---
Friendly Neighborhood Spider-Man #15
,
---
New Avengers: Illuminati #1
,
---
Ms. Marvel #10
,
---
Sensational Spider-Man #33
,
---
Thunderbolts #109
,
---
X-Men: First Class #4
,
---
&
Union Jack #4
---
---
Don't miss the C. Wayne Owens/Seymoure Store at our
CafePress.com Page
And C. Wayne Owens' New Publishing Site is
New Books by Wayne